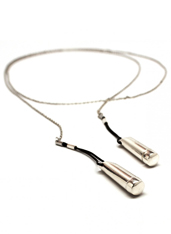 We want to be clear about something.
If you happen to find women's jewelry to be offensive, you should probably stop reading now.
But to be fair, we're also referring to a very... specific type of women's jewelry.
You know, the kind that moonlights as an adult toy.
Which brings us to
Incoqnito
, a curious collection of unassuming women's accessories by day and something entirely different by night, now available online.
The whole concept was cooked up by a Georgia Tech grad turned industrial designer who (thankfully) saw something very wrong with the fact that her belt didn't double as a whip. And while she was at it, she went ahead and designed a set of brown leather bracelets that link together (somehow you knew handcuffs would be involved), a silver necklace that may or may not require batteries and a laundry list of other undercover essentials.
And sure, any one of these things would make for a great self-gift cleverly disguised as a her-gift. But let's say you're out with a few friends. You lock eyes with a lovely and dangerous-looking brunette from across the room... and she happens to be wearing some very familiar regalia.
Well, let's just say now may be a good time to introduce yourself to this person.
If only to show appreciation for her taste in jewelry.