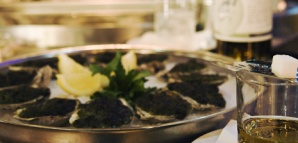 Even in a city with a virtually limitless array of dining options, some dishes are way too good to miss—they demand immediate consumption. Every month, our feature Served Up gives you the lowdown on a standout dish in the city. Dig in.

Seeing absinthe on the menu isn't news...if you're drinking it.

Which is why when we heard that a chef was cooking with absinthe, we were intrigued enough to be lured all the way down to Santana Row for a taste test.

Only available at the Yankee Pier in San Jose, chef Steve Wallin makes a mean Oysters Rockefeller—even meaner because it's laced with absinthe. His version, which does not include cheese or spinach among its 18ingredients, is as close to the secret 100-year-old recipe from Antoine's Restaurant in New Orleans as you can get. The mixture's heavy on onions and greens, with a few dashes of hot sauce, Worcestershire, butter, breadcrumbs and a healthy pour of the green poison. And now that the absinthe ban's been lifted, chef Wallin's dish has a smoother, more intense anise flavor (not to mention better mind-altering potential) than the recipes that still use Pernod.

Rich yet refreshing, these deliciously souped-up oysters pair nicely with the Gloria Ferrer Sparkling Brut, but we think it's best to stick with a wormwood-inspired the me and get the Absinthe Cocktail (sugar cube, chilled water and the Alameda-based St. George's Absinthe Verte to keep things local). Of course, the jury's still out on whether this once taboo liquor is hallucinogenic.

So eat responsibly.