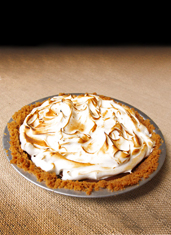 In LA, so much is waiting just outside your door.
Right this moment, there might be a contract from DreamWorks on your stoop. Or there might be a
Vampire Diaries
extra knocking to deliver a musical candy-strip-o-gram.
Most importantly, there might be some delicious apple pie.
If, that is, you've placed an order with
Crust
, a new pie delivery service now serving throughout the city.
Now, we don't need to convince you that pie is good. But we should probably tell you that the woman behind Crust has done dessert duty at Westside Tavern, as well as supplied those famous LudoBites pop-ups, so... this pie is really good.
The execution: call her up or email through the website, and in 24 hours you'll have
Apple Pie
with Washington apples,
Tart Cherry Pie
with a lattice crust or a
Campfire S'more Pie
, with milk chocolate ganache, homemade graham crackers and toasted marshmallow.
If you're throwing a pie party, you can also get individual pies, served in brown paper bags, or pie shooters. (Nothing says "rager" like shots of pie.)
Of course, sometimes you prefer your pie outside your house. For that, you'll want to drop by the burger-and-brat joint Golden State one week from tonight for a one-night-only pie pop-up. There'll be pie by the slice, Scoops ice cream and beer.
Or as you call it, dinner.