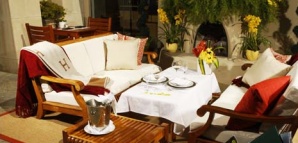 Any reputable Casanova needs an arsenal of impressive date spots at the ready.

And when you find a new one that mixes the exclusive (one table, and one table only) with the casual (outdoors, with couches by a crackling fire), all the better. Now taking reservations: Table ONE, literally offering a one-of-a-kind experience beginning May 1.

Found on the renovated garden patio of JAAN—your go-to deal-making resto in the L'Ermitage hotel—Table ONE hosts just one reservation each night for either a couple or a pair of couples. (It seems threesomes are out of luck.) Dinner itself is a completely customized five-course extravaganza that starts when the spot's ambassador for the evening calls you to discuss your preferences of exotic meats and fish. That way, everything's arranged before you arrive and settle into your fireside couch—it's kind of like your living room...but with five-star service.

But if five courses with wine pairings doesn't quite pass muster, the more extravagant Epicurean Dinner option (at $2,500 per couple) should do it—Ossetra Petrossian Caviar starts it off, then lobster salad, truffles, scallops and steak all make an appearance before a Saffron Chocolate Tart in 24K Gold.

Been a while since you found anything like that between your couch cushions.