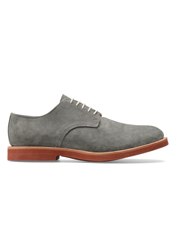 Your feet have been through a lot lately.
The rain. The slush. "The Jacuzzi incident."
So you've got two things to do. First, call the hotel to apologize. Second, get some new shoes.
Here to help with the second is
Walk-Over
, a line of preppy-fied shoes straight from colonial Massachusetts, available now.
Now, you may have heard of these guys before—they've been cobbling since 1758. (We're told britches are now optional.) In the past 20 years or so, they had a Mickey Rourke–style struggle with irrelevance—let's just say outlet malls were involved—but now they're experiencing a Rourke-style comeback. (Minus the tiny Chihuahua.)
What all that means for you: you now have a hookup for rakishly updated classic shoes—think spectators with neon-green rubber soles (just like our Founding Fathers intended). It's the kind of thing you could wear to a semiformal clambake in Newport or to your Bull Fighting Society's annual beachside mixer. You can get them online in June, but for now, we know someone in Connecticut who can hook you up with a pair.
Just be careful around the Jacuzzi.