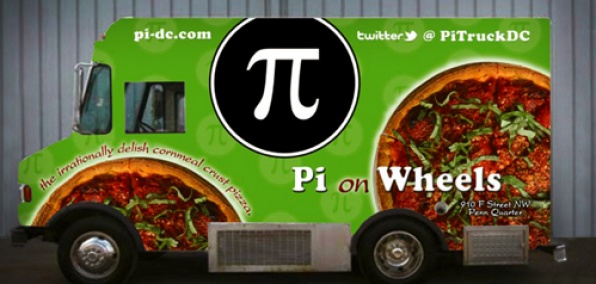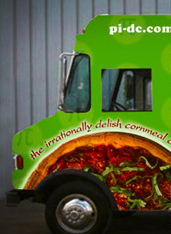 There are those constants in your life.
Some cold gin at 6pm. Your recurring Thursday night masquerade parties in embassy ballrooms. Your Saturday morning routine of a hot-lather shave and fencing lessons.
And, of course, your ceaseless craving for pizza.
So say hello to
Pi on Wheels
, rolling out early next week to bring a mathematical constant to your decidedly passionate desire for pizza.
Expanding from a famous operation in St. Louis (that pizza-lovin' town), this is about as straightforward an experience as you can expect from a truck. You see, they only serve one thing: nine-inch, deep-dish pizzas, baked onboard.
You know the routine:
follow them on Twitter
, or watch out for the big green mail truck emblazoned with the letter π that will be making its rounds downtown at lunch, and soon enough outside your favorite bar late-night.
Each time, you'll have two meat and two veggie options that are long on the toppings, like the
Bucktown
(mozzarella, roasted chicken, artichokes, peppers, olives, onions). All will sport the same unique crust, laden with cornmeal to make it extra chewy.
In coming weeks, they're looking to add larger pies to their rolling menu (for those times when you've just been drinking with a bunch of hungry roadies and they're looking to you for answers). And later this spring, they'll throw the doors open on their brick-and-mortar space in Penn Quarter.
We're expecting it to be very geometric.