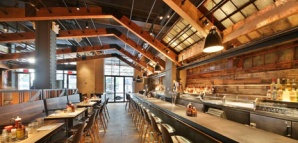 New York has seen more than its share of barbecue lately, but when there's a master at work, we can't help but take notice.
And we're always ready for more short ribs.
Welcome to
Wildwood Barbecue
, "Big Lou" Elrose's take on the best damn American barbecue, opening this Thursday.
You might be familiar with Texas-style barbecue from
HillCountry
, Big Lou's previous gig, but Wildwood casts a wider net. To prepare the menu, Lou went on a pilgrimage to the best barbecue joints in the country, stockpiling 500 jars of sauce and visiting pits from Raleigh to St. Louis. The result is a menu chock full of the best regional American barbecue, with pulled pork courtesy of North Carolina, baby back ribs from Memphis, pork ribs from Kansas City and lamb spare ribs from...his imagination.
Naturally, you'll want something to wash all that down, so they've stockpiled 30 different bourbons for your sipping pleasure, along with suitably refined cocktails like a spot-on
Mint Julep
(fortified with "Kentucky Colonel" mint).
The sauces are all cooked up by Big Lou himself without typical flavor shortcuts like Tabasco, cayenne or liquid smoke. And unlike any other BBQ spot in the state, all of Wildwood's meats are all-natural and hormone-free, you know, like granddad used to make.
Without those occasional lighter fluid mishaps.