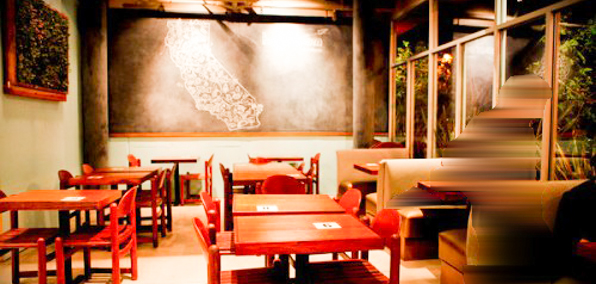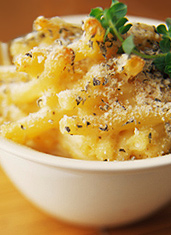 Your bridge crossings: few and far between.
But there are certain places. Certain things. Certain situations that make the trek worthwhile.
We're thinking nearly a dozen iterations of mac and cheese makes the cut...
Introducing
Homeroom
, the first mac and cheese restaurant to hit these parts, opening for lunch on Tuesday in Oakland.
Now, if the name is giving you flashbacks of reciting the Pledge of Allegiance in class or pop quizzes, let us remind you that the hardest question you'll be asked is what kind of mac and cheese you want (and there's no wrong answer).
Given the name and academia-inspired design elements—from the blackboard with chalk sketch of the state of California to the wall of vintage library cards and paper planes, or the tables forged out of wood from bleachers in a high school gym—you'd think the schoolhouse vibe would be overkill, but they managed to stop before it went too far. Besides, there's nothing an order of mac and cheese won't fix.
Take a booth by the floor-to-ceiling window for maximal table square footage. Beyond the
Classic
with buttery breadcrumbs, you'll have to choose from delicacies like the
Bacon, Egg and Cheese
, chorizo/chipotle pepper
Mexican Mac
and
Trailer Mac
with hot dogs and crushed potato chips (again, no wrong answer).
And, of course, you can heed the wine and beer pairings with each order, or you can start with the Old Rasputin Imperial Stout ice cream float.
There's a lesson in there somewhere.