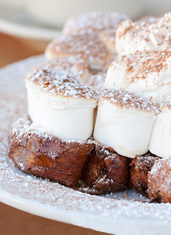 They say you should always try to live in the moment.
We're fine with that, as long as the moment is serving some decadent brunch.
Preferably a new secret item at the Griddle Cafe...
It's like hot chocolate, but in french toast form. Needless to say, it's on fire.
Introducing
Hot Chocolate French Toast
, the new off-menu special for your next hangover brunch at the Griddle Cafe, now available to anybody who knows to ask for it. (That would be you.)
So this is what will happen. First, you'll have a truly awe-inspiring Saturday night. Then, at some point on Sunday, you'll wake up... wherever you wake up. You'll have stories to tell, and there's only one Sunset Boulevard hangover-brunch institution to tell them at. (Okay, there are many, but you'll choose this one.)
Once you're seated, let your friends order their red velvet pancakes. But you, you'll wave away the menu and boldly order the
Hot Chocolate French Toast
. It's made with rich chocolate bread. Overstuffed with melted, gooey chocolate chips. Topped with whipped cream and a pile of marshmallows that were lovingly set on fire in the kitchen.
The perfect antidote for these frigid LA mornings.
Note:
Hot Chocolate French Toast, $11.95, now available by request (max 50 orders daily, through February) at <a target="_blank" href="http://www.thegriddlecafe.com/">The Griddle Cafe</a>, 323-874-0377