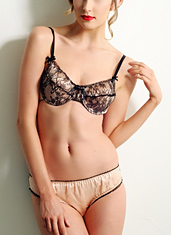 There are only a few shopping days left, so let's get right to the point. For Valentine's Day, you're going to want to get her something one-of-a-kind. Something luxurious. Something made to your exact specifications.
Your options: a life-size unicorn sculpture painted by LeRoy Neiman. Or, better yet: a set of three custom-made panties.
Introducing
The Blush Curated Panty Collection
, now available from local pop-up lingerie boutique Bella Blush in order to brighten up her Monday—and, of course, the rest of your year.
This is your chance to fulfill your lifelong desire to give your girlfriend bespoke panties. A whole triptych of them, in fact.
Here's how it works:
you'll order
by this weekend, and on or before Valentine's Day, your recipient (or recipients) of choice will receive a card telling her that she's got a surprise coming, along with a personal note from the British designer.
In the meantime, you'll consult with the folks at Bella Blush about the specific properties of each garment, like color, fit, bows, monograms and other accoutrements best left undescribed over email.
That's when your seamstresses in the UK (a country that knows from knickers) will get to work hand-making each pair, which your lovely will receive in six to eight weeks.
At this time, LED lights are unavailable.