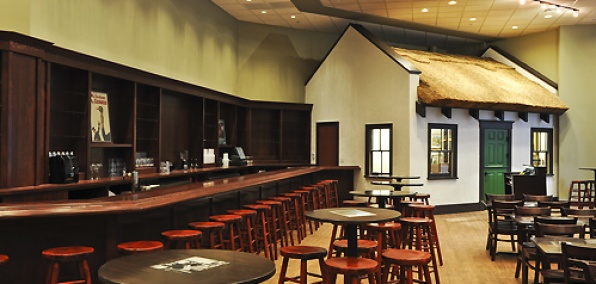 Tampa.

Its connection to our city is strangely cosmic.

Manny Ramirez and Johnny Damon, two former glorious Sox, are now Rays. They're a port city; we're a port city. They have a few Irish pubs. We have many.

And now, one more. From—you guessed it—Tampa.

So drink in your first look at Four Green Fields, the most authentic-feeling 220-seat Irish pub to ever be born in Florida, opening tomorrow downtown.

Think of this as your new monstrous, two-floor raucous watering hole for escaping the furious winds that punish State Street and the Old State House during February. With a little help from Gaelic Empanadas and ample pints of Murphy's Irish Stout (and those 5:30pm emergency office meetings).

So when a medicinal deployment of cold pints, some oysters (they have a full raw bar) and heaping Limerick Ham Sandwiches served on Irish soda bread is required, they've got you covered. Also covered: your weekly Guinness Beef Stew quota (not to mention your pints of Guinness quota).

And take a good look, because outside of this one and the one in Tampa, you won't find another authentic thatched-roof Irish pub in the US. Granted, their roof is actually on the pub and ours is on a hut inside, housing high-end Middle Eastern, Irish and French art.

Just like the old country.