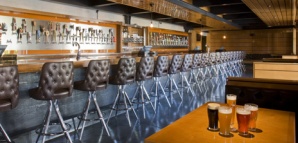 Among life's most important indulgences—a legendary burger and a cold pint from a trusted source.

Unfortunately, at Santa Monica's nationally famous gastro pub Father's Office, they could only be enjoyed after an excruciating wait (you can't make reservations) and another excruciating wait (there's no table service), only to then try to ingest in peace despite a stranger's elbow in your face (in terms of size, this Office is more like a cubicle). Sure, the burger was worth it, but it was a lot to ask for a beefpatty.

Now, you can get it for a lot less strife. The larger, shinier Father's Office Version2.0 opens tonight in the Helms Bakery building.

The blond woods, classy menu and exotic brews all feel familiar, but you'll immediately recognize everything is much more...more. (Except for the prize-winning burger—dry-aged meat, bacon compote, arugula, caramelized onion, gruyere and Maytag bleu cheese on a toasted French roll—which remains untouched, of course.) Put in your order at the much larger bar, commandeer a generously sized leather booth, or stay outside on the spacious covered patio, our pick for sunny days from now through the fall. You can even reserve the semi-private room in the back for a special occasion.

Twenty burgers, nineteen deserving comrades...sounds like the new hottest reservation in town.  Apologies to the Mozzas.