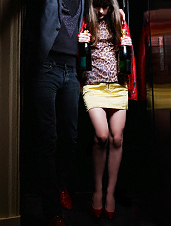 The newest nightlife power rankings show some very interesting developments.
Rooftop lounges: still strong.
TGI Friday's: still ranked 3,987.
And completely debauched basement dance parties: now making a claim for the top spot.
Introducing
SGTs
, a subterranean, word-of-mouth dance hall that's partially lit, covered in military stars and exactly the kind of winterized party you want this time of year, open now.
Stashed behind a false exit in the fake
Hotel Chantelle
, this place gives off that classic "basement dive bar meets secret war room" feel. Except with champagne swigging. A giant dance floor. And six-inch-heel-friendly wood banquette tops.
You'll be looking for an illuminated exit sign on the main level. Once you've found one that doesn't set off a fire alarm but does house a set of south-traveling stairs, descend.
At the bottom, you'll discover where the bulk of Hotel Chantelle's 7,500 square feet has gone. There's an impossibly long bar in one room. And a mass of gyrating humanity in another. We suggest strutting (but not electric-sliding) your way in a counterclockwise fashion.
And if there's one night to make your stand here, it's probably Thursday, when the Chainsmokers (of Le Bain and
Bunker Club
fame) throw their weekly Sexual Tension party.
BYO exceedingly attractive platonic friend.