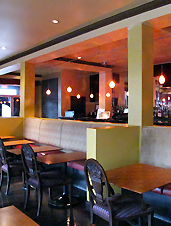 Things around here are going to be different for a while. No longer will you sip beer while you gaze into a TV at giant men colliding with one another.
You'll just sip beer.
Here to provide a new venue for such pursuits:
The Tap & Parlour
, open now for your next cozy, casual date.
You may have taken in some live jazz here at a tree-stump table in the legendary underground Bohemian Caverns. But here on the street level, it looks like the kind of place where Sherlock Holmes would unwind with a Belgian tripel after an extremely aggressive set by a post-bop trio downstairs (you know Holmes dug the upright bass).
On your way in, you'll pass a handsome wood bar lit by soft pendant lights. Resist its pull, for your business lies farther back at one of the many weathered club chairs clustered around the fireplace, or one of the low vintage sofas (the red velvet number looking out the window onto U Street gets our vote).
Once ensconced there, you'll order up beers with names like Lucifer and Trois Pistoles (tip: stop by on Tuesdays for the Belgian beer happy hour).
Of course, if you haven't totally shed the football ethos, you can always opt for a can of Natty Boh and a plate of buffalo, bourbon or jerk wings.
It's still football season in Belgium.