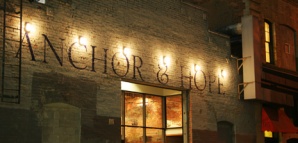 They say good things happen in threes. And when it comes to the third restaurant from this trio of restaurateurs—brothers Steven and Mitchell Rosenthal and Doug Washington (of Town Hall and Salt House)—we'd have to agree.

Opening on Tuesday, Anchor & Hope, named after a London gastropub and themed after a New England fish shack, brings you a new lunch hideaway and a perfectly casual spot for a first date.

Harbored in a centuries' old warehouse with a 30-foot-hightrestle ceiling, she'll appreciate the restaurant's rustic vibe and you'll be drawn to the long, zinc bar. You'll both probably be puzzled, however, by the sumi-ink mural (we're calling it "Big, Hungry Fish"). Ponder its meaning over a half-dozen Malpeques and a pint of Delirium Tremens from the 25-deep global beer list.

Virtually everything on chef Sarah Schafer's (Frisson) menu, from Fried Ipswich Clams to the Anchor & Hope Lobster Roll, makes you feel like you've switched coasts and landed in Maine. But standout apps like Warm SeaUrchin in the Shell bring you back to SF... as do tongue-in-cheek dishes named Angels on Horseback—although we're not sure which part of this bacon-wrapped oyster is the angel and which is the horse.

Although we have a good guess...