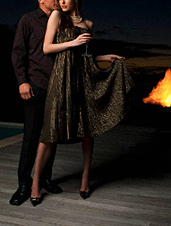 Your commitment to outdoor drinking is somewhat legendary.
You've been known to sniff out tiki bars on the C&O Canal, cocktail parties on the Speaker's Balcony and backyard BBQs in Germantown.
And yet, early February and all its wintry mixes leaves you a bit stumped when it comes to alfresco cocktails.
Well, consider yourself un-stumped.
Introducing
The Ice Bar at ADC Rooftop Lounge
, your new spot for a quick—and cold—after-dinner drink, now open Fridays and Saturdays.
You've been up here on the rooftop of the Donovan House hotel in the summer for the great view and the poolside frolicking. But now, it's as if the whole thing has been transported to Norway.
You'll lead your date onto the blustery roof and to the bar, which is now made totally out of ice (refrigeration not required). There, you'll find an ice luge for frosty shots, as well as parka-clad bartenders sliding you glasses of champagne and drinks like the
Morello Fire
(sake, chili-infused vodka and cherry puree).
Or, if your hat and gloves (which, by the way, you're still wearing) aren't doing the trick, you can always grab a cup of mulled wine, spiked hot cocoa or hot sake and huddle around the gas fireplace, until the great indoors begins to beckon again.
Or run back to the car for your emergency bearskin.