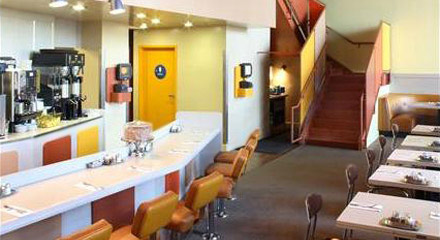 Even in a city with a virtually limitless array of dining options, some dishes are way too good to miss—they demand immediate consumption. Every month our feature Served Up gives you the lowdown on a standout dish in the city. Dig in.

A truly spectacular night of Hollywood revelry requires...a truly spectacular hangover cure.

And so it is with great pride (and great anticipation of all that preparatory revelry) that we unveil the launch of an off-the-menu secret remedy at The Waffle—an astounding fried chicken and waffle sandwich they're calling The Double Wide.

Served only to those who know to ask for it (that would be you), the sandwich utilizes Applewood-Smoked Bacon Waffles for the enormous sandwich's "bread." (In a brilliant feat forever altering the future of the waffling industry, the bacon is actually baked into the waffle.) Inside: tender fried chicken, more applewood-smoked bacon, lettuce, tomato, sliced red onions and melted Tillamook sharp cheddar. In case this all seem a bit too restrained, the sandwich arrives with a side of sawmill white country gravy...and a bottle of the house-made maple syrup.

If your impending hangover isn't yet quite worthy of this magical cure, the rather fantastically named chef Scooter Kanfer-Cartmill suggests you toss a few back at the diner's upstairs bar beforehand, then perhaps pair your sandwich with a Shake and a Shot (we recommend chocolate for the former and whiskey for the latter).

Drink responsibly, but eat with reckless abandon.