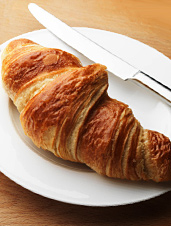 Breakfast.
A steaming cup of coffee. Maybe a few pastries. Psychic readings and candle magic.
You know, the basics...
But on the off chance you require further explanation for that last part, we're pretty sure you'll find it at
Café Jonah and the Magical Attic
, a breakfast-and-luncheteria that doubles as a spiritual healing services depot, from the owner of Souper Jenny (read: Jenny), soft-opening Tuesday in Buckhead.
If Willy Wonka got in touch with his spiritual side and opened up a restaurant instead of a chocolate factory, it would probably look a lot like this place. Your journey begins as you step through the bright-red door and find yourself in... a living room.
Make your way past the fireplace and bank right, which is where you'll proceed to collect your daily ration of H&F croissants filled with applewood smoked bacon, frittatas and muffulettas before disappearing into one of the endless couch-filled nooks at your disposal.
Take a deep breath. Relax. And then, when it's time—head up to the attic.
It's there, under the vaulted ceiling, that you'll find row after row of aromatherapy oils, candles and books of every stripe. But just around the corner and to the right lies a tiny, hidden room where (with an appointment) your typical café staff of psychic readers, meditation specialists and... candle magicians would be happy to impart their services upon you.
And if you happen to know what candle magic is, let us know.