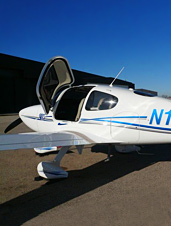 Airports.
Between the pat downs and the X-ray scanners, you're left feeling... a little cheap.
It's time someone put a little romance back into travel. That someone is you.
Here to help:
BlueSky Taxi
, an on-demand chartered flight service now taking reservations for your sky-high romantic interludes.
Think of this as a carriage ride around the city—only now your driver is a licensed airline pilot, the horse is a four-person Cirrus SR22-G3 (the same plane that Brad and Angelina use on adoption runs), and instead of clopping along Michigan Avenue, you'll be zipping above it.
Call the BlueSky Taxi folks anytime, 24/7. You'll choose the airport that's closest to you—they use 40 regional airports in the area, including Midway's charter jet facility. When you arrive, the pilot will personally escort you to the aircraft, strap you into soft leather seats with big commanding windows and take you on a 45-minute tour over the city. Meanwhile, you'll sip champagne, which you'll have thoughtfully arranged to have chilled and waiting.
You can also have the pilot take any flight path you want, as long as it doesn't conflict with any flight restrictions: zoom over your house, over the lake, over that special message you've spelled out in millions of rose petals in Grant Park...
Assuming you're in the upright position.