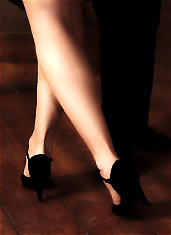 Nightlife observation No. 394: there are two kinds of nightclubs.
First, there are those spots marked by strobe lights, bottle service and bass-happy DJs that you wade into in order to find a date.
Then, there are those spots—a little more subtle, a little more classic—where you
take
that date.
Today, we'll talk about the latter.
Introducing
Era Bella
, debuting this Friday to remove the oontz-oontz from your nightclub experience.
Through the early evening, this place is known as Tuscana West, where you've settled in for a gnocchi-fueled power lunch or two. But come 10pm this Friday (and every Friday thereafter), it will become the kind of place where Mr. Ripley (the talented one, not the "Believe It or Not" one) might have hung out on a European jaunt.
The drinks: there in abundance. The live music: a multilingual, Latin-influenced trio. Your date: following your lead across a 600-square-foot marble dance floor to the rumba, bossa nova, maybe even a tango or two (go ahead, close your eyes and get it done like Pacino in
Scent of a Woman
).
Of course, after all that cutting of rugs (er, marble), you'll need to fuel up. For that, you'll sidle up to the massive bar to sample late-night tapas like polenta topped with mushrooms and cheeses, or pizza with shrimp and artichokes.
Nothing drives your appetite like the rumba.