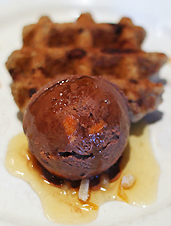 Two Aprils ago, we brought word of a magical food.
It was called
nduja
. It was meat that you could spread. And the world rejoiced.
Well, there's been a new development in the spreadable salami world.
And we're not gonna lie: chocolate is involved.
Behold
Nduja Ice Cream
, a frozen mashup of spreadable salami and chocolate ice cream served over a chocolate chip waffle cookie, now available for dessert at Incanto.
It's hard to know what to expect when a classic dessert meets a revolutionary meat product, so we'll tell you that it looks just like any good-looking dessert. On the surface, it's a small Belgian waffle covered in chocolate ice cream. But you'll want to drill deeper, because after one spoonful you'll know there's something glorious happening below the surface.
To really understand what it's like, imagine a scoop of rocky road, but replace the usual chocolate chips, nuts and marshmallows with smoky bacon-bit-sized nduja. What you'll get is closest to a spicy, zesty Mexican hot chocolate in frozen form.
Then the cookie—a chocolate chip cookie cooked in a waffle iron—comes into play with its crisp pockets soaking up the chocolate. Finally, it's all topped with a drizzle of rum-caramel sauce and candied cara cara oranges for a little kick.
Rum, pork and chocolate—together at last...