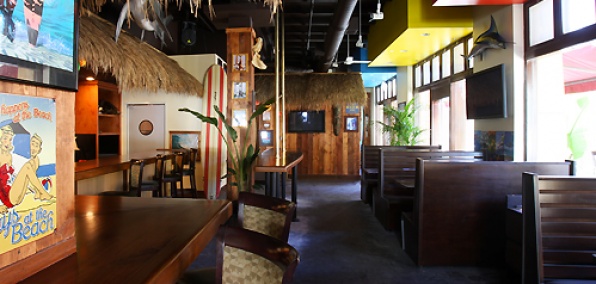 So Mila just called.
The nominations are out, and despite her fine turn making out with Natalie Portman―and your fine turn watching it―you both got snubbed. Again.
Time to drown your sorrows on the Walk of Fame...
Introducing
Maui and Sons
, a sunlit Hollywood Boulevard bar and grill built on fish tacos, bikini tops and spiked coconuts, soft-open Thursday and Friday nights before its official debut on Monday.
This is the kind of place to keep in your back pocket for when the sun's out, your day is wide open, and everybody just wants some coconuts upgraded with rum and a straw. To find it, head to the courtyard outside the Egyptian Theatre, and keep an eye out for a neon-lit longboard, hanging sharks and a waitstaff sporting bikini tops and board shorts. It's sort of like Hollywood finally got a beach.
There's an outdoor grill, and before long
you'll all be feasting on
mahi-mahi bowls, baskets of fish tacos (grilled or fried) and, for the particularly bold, the
Tsunami
―it's a Spam burger topped with a sunny-side-up egg.
It's all brought to you by the empire behind Cabana Club and Green Door―but if you're wondering what's up with the name, yes, it's related to those old beachy Maui and Sons T-shirts you remember, which will be on sale for tourists and victims of errant frozen-daiquiri spillage.
Luckily, your daiquiris are never errant.
Note:
<a target="_blank" href="http://www.mauiandsonsbarandgrill.com/">Maui and Sons</a>, grand opening party Thursday (open to public at 10pm), soft-open Friday (5pm-1am), officially open Monday, 323-463-3130, <a target="_blank" href= "http://static.urbandaddy.com/uploads/assets/file/pdfs//c46696a42e9308575f3b542460ed9de0.pdf">see the menu</a>