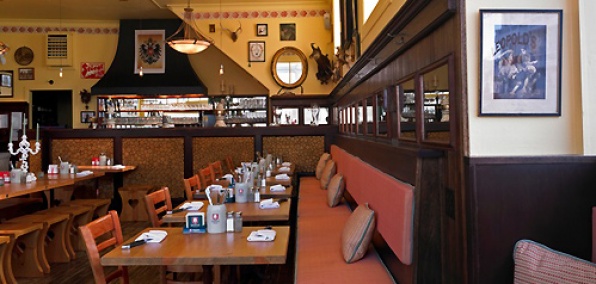 A few months ago, three to be exact, you made a wish.

Something about Oktoberfest becoming a year-round thing. Beers were involved.

Well, welcome to the wild world of your wish...

Introducing Leopold's, the latest lodge-like restaurant and bierhaus personification of Oktoberfest to come to the city, open now in Russian Hill.

From the second you step inside this sunny corner spot located midway up the Union Street hill, you'll swear you were transported to an alpine den in Salzburg in October, down to the deer-head taxidermy and waitresses clad in dirndls (turns out, hunting treasures and tight dresses are quite compatible).

Of course, for your hillside-scaling efforts, we suggest you head straight to the red marble bar in back, where you'll be rewarded with a hefty stein filled with a brew from their selection of mostly German and Belgian beers, like Köstritzer Black Lager or the lone local Big Daddy IPA on tap.

Once you start taking it all in, you'll quickly realize that this Bavarian tavern—run by two brothers from Salzburg and dotted with deer heads and antlers, white porcelain rams' heads and candelabras—is the real thing. It's the sort of eating and drinking den that you'll stop into for wiener schnitzel, their house platter of pork belly, smoked pork loin and bratwurst, or the Paprika Beef Goulash (with the suggested side of a half-liter "special" Spaten) in one of the long wooden booths.

Once again, beers will be involved...