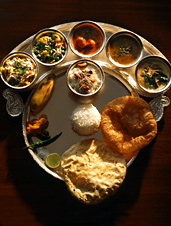 So there's this supper club. You know, the skull-and-bones type.
But to find it, you'll need to journey to a mystical, faraway land teeming with tree-lined cul-de-sacs, lawn mowers and... Applebee's.
Actually, scratch that. They'll just bring it to you.
Consider this your formal invitation to the
Curry Cravings Supper Club
, a six-hour barrage of curry-laden curiosities, free-flowing cocktails and the occasional Indian folk-dancing lesson, now taking reservations for next month's soiree.
So, you may have gathered, but your lovely hostess, Nandita, lives in Roswell. And if you choose to show up at her place, you and your date may find yourselves taking off your shoes at her door and accepting a glass of hot chai before mingling with your fellow dinner guests. You may also find yourselves milling around the kitchen with a glass of wine while Nandita whips up at least 15 courses with things like curry shrimp, edamame-basmati rice and kokum fruit.
Things usually come to a head around midnight, so don't be surprised if your dinner happens to be interrupted by an impromptu henna session (those crazy Indian hand tats) or the aforementioned folk dance-off. And that's all good and fine...
But what you really need to know is that if you give Nandita a little heads-up, the whole shebang (mystery guests included) can and will be recreated wherever you want it to be... up to and including your place.
Yes, you just commandeered an underground Indian supper club.