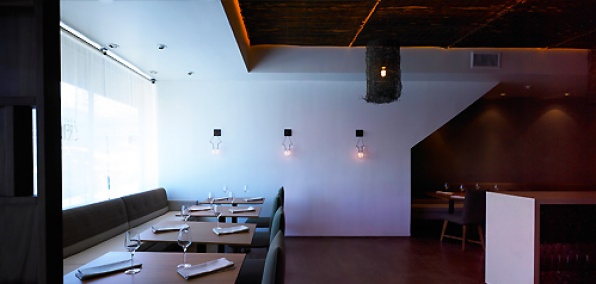 We're hard-pressed to find the downside to a three-day weekend.

Probably the worst of it is that you've got one less day to plan for the weekend ahead.

This should help a bit...

Introducing Atelier Crenn, a nook of a new date spot that feels like an intimate dinner party at the sleek home of a French friend, opening Friday in Cow Hollow.

All of this means that regardless of whatever stage of dating you're in, a dinner in this woodsy den is the ideal launching point to get you to whatever stage of dating you want to be in. You'll be wrapped up in a little bit of formality and a fair helping of low-key charm: bare teak tables, blown glass, twig-like fixtures hanging overhead.

They're taking reservations now, so you'll want to request a table at the banquette under the wall of windows overlooking Fillmore Street that's slightly secluded from the heart of the restaurant. And since the menu is prix fixe—there are three-course, five-course and tasting menu options—you can throw your attention to your date. (That is, once the wine—go for a Burgundy from the 35-bottle list—is in hand.)

Of course, just because the menu is fixed doesn't mean that it'll be without surprises. For now, you can expect abalone, squab and sweetbreads, but soon more exotic edibles like locally raised peacock will be on hand.

We hear it tastes more like duck than chicken.