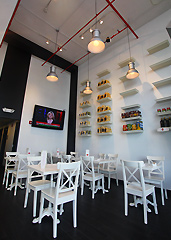 You relish complexity: string theory. Health care legislation. The plot of
Inception
.
But sometimes all you want is something really simple: like a little 10-table restaurant bathed in white, some pasta kissed with olive oil and a convenient beachside location.
Say hello to
Fiamma
, a serene Italian kitchen tucked away in the chaos of South Beach, now soft-open and ready to help you get through these breezy winter days.
Everything is crisp and white in this cozy café on the eastern edge of Espanola Way: glossy whitewashed chairs, Corian countertops and old-school server aprons as pure as the driven snow.
Come here for business lunches to avoid the corporate feel, or when you have a hankering for chicken panini after a day at the beach.
But you'll want to return at night, when the place gets dim and cozy with candles, and images from Italian cinema dance on the flat-screen. Share a plate of
Tagliatelle Verdi Bolognese
, made with spinach pasta, meat sauce and olive oil imported straight from the Boot (which you can also buy at the counter).
And until the liquor license kicks in, it's BYO, so bring a bottle of red with you.
Go ahead, make it a magnum.