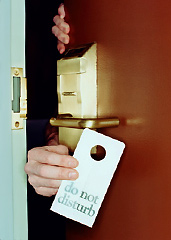 We've all been there: Brussels hotel bar. Watching Belgian game shows with no sound. Scanning the crowd for intriguing... faces.
But that was 2010. And in 2011, you've got a better plan.
Introducing
IMGuest
, a new website devoted to introducing you to all the interesting people in your hotel, online now.
Think of this as LinkedIn for the hotel bar—your source for seeing just who happens to be at the same hotel, and whether they're traveling for business or pleasure.
So say you're in Rome to shoot that only-in-Italy whiskey ad. You'll check in with the site (you can use Facebook or LinkedIn) and you'll get a full list of every other user on the premises, with an alert anytime someone new checks in.
Then, if you need a finance lawyer to help you review your deal—or perhaps a more intimate partner for making a new deal—you can scan through profiles for a perfect match. You'll see work experience and hotels they've stayed in (useful for reenacting
Up in the Air
), and send them a message (in case you want to swap rental car stories). Then, once you've made a connection, the site will send you alerts whenever your contact is in a nearby hotel.
We'd pack some champagne just in case.