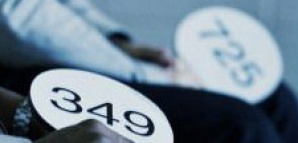 If you're looking to fill an apartment—or buy one—it's hard to pass up a good auction.
And if the auction happens to have everything from farm equipment to a cottage upstate...you might be persuaded to stick around a little longer.
Welcome to
Everything Must Go
, the latest gem from Grand Opening, the folks who brought you
PONG
,
Office Party
and
DRV-IN
. This time, the 139 Norfolk thinkspace/laboratory/factory is being devoted to auctioning off the rarest, coolest stuff they can find, starting this Saturday.
The old-school estate-style auction will happen every week, but instead of the DRV-IN you're used to, you'll find the space littered with whichever crazy goods are up for sale in a particular week. Of course, you'll want to get a good look before you make your play, so Grand Opening lets you stroll by during the week to take a peek (or do your peeking online like you're used to). Then find a good seat Saturday morning, wait for your favorite grinding stone to come around, and raise your paddle like there's no tomorrow.
This week's theme is "country home," so you'll have a shot at countrified tables, glassware and oil paintings of houses that come with the chance to buy the painting, the frame or... the house itself. Future auctions will have wilder themes, but for next week they're going rustic: The theme is "farm implements," including wagon wheels, pulleys and a fully functional goat treadmill to help you give your apartment that pre-industrial feel.
Or finally get your goat back in shape.