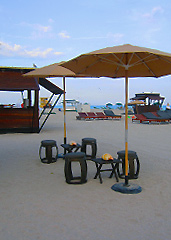 Ever since that jealous PA opted not to fill your Star Waggon with miniature s'mores made with homemade graham crackers, you've kept your distance from trailers.
But today we want to show you a trailer—er, kiosk—you might want to give a second look. Because it involves the beach. And Wagyu hot dogs.
Introducing the
Setai Beach Kiosk
, a stationary trailer churning out an impressive array of food, drink and beach-clubby vibes, now soft-open on South Beach.
First step: head near the Setai and follow the alluring aromas of grilled beef, sea salt and bikinis behind the hotel. That's where you'll find it: a gleaming white RV flanked by a sprawling patch of umbrellas and oversize chaise lounge chairs.
Steps two, three and four: kick off your shoes. Summon a menu. And order anything from a Black Angus burger to a Caesar salad. Or go for the signature meal: a Wagyu hot dog served on a brioche bun with grilled onions, grain mustard and homemade relish.
But washing it down may prove a little trickier. You'll need to flash a hotel key to order wine or cocktails. Or you may just want to go with a nonalcoholic piña colada.
The flashbacks to TGI Friday's when you were 12 come at no extra charge.