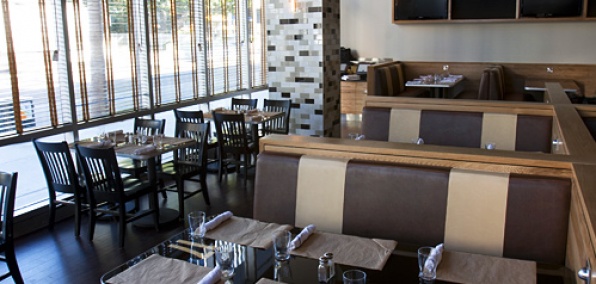 No matter what you might've heard, Hollywood isn't out of ideas.
Seriously. This is a town where somebody looked at a couple of grilled-cheese sandwiches and thought, hey, those could really be used as hamburger buns.
Introducing
GO Burger
, a bastion of burger innovation here to bring you spiked milkshakes and melted gruyère, opening Monday at the corner of Sunset and Vine.
It's a bright, modern corner spot from the beef artisans behind BLT Steak, with floor-to-ceiling windows looking out onto one of Hollywood's busiest intersections―an easy spot for a quick work lunch, or a burger date before or after a movie at the ArcLight.
To start: you can't not try
the UltiMELT
, a giant burger topped with bacon and caramelized onions, with two gruyère-on-rye grilled-cheese sandwiches for buns. Supplement it with
Fried Dill Pickles
or
Duck-Fat Fries
. Or even a salad (yes, they have them).
If you want your booze in a milkshake, try the
Aztec Mocha
(it's tequila, coffee ice cream, chocolate syrup and cayenne pepper). But if you prefer your cocktail in cocktail form, go for the
Brown Derby
, made of rum, lime and maple syrup.
It's definitely the drink Mrs. Butterworth would order.