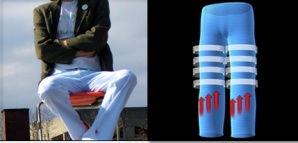 Now that spring is springing, those seersucker pants are looking better and better. If only they weren't so...vertical.
As it happens, the good folks at Cordarounds share your skewed perspective and they've spent years in the lab toiling over fabric swatches, all to put together a ventilating pant with you in mind.
Prepare yourself for
Suckerlab
.
On the heels of their
world-famous horizontal cords
, Cordarounds is rolling out a khaki-striped seersucker version with ridges in horizontal rings all the way up and down your lower half. The fabric is the same narrow-striped cotton you know and love, but it's twisted 90 degrees to leave you with 500 ventilating ridges between your waist and the sun-cooked pavement. Besides the striped khaki, there's also the bright green model, which may not make you feel cooler but will get you a lot closer to that "Brazilian hobo" look you've been chasing.
On the off-chance that bright green isn't your favorite hue, you can live the horizontal dream in a less fluorescent khaki-stripe without sacrificing any of the magical cooling properties. There's also the checkered model that combines regular seersucker and horizontal seersucker into a terrifyingly futuristic ginghampant that could revolutionize seersucker as we know it.
It turns out there's a new seersucker born every minute.