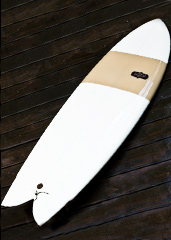 We don't want to alarm you. But right now, throughout the country, there are cold, wet flakes of some unidentified substance falling from the sky.
And there's only one rational response to this level of wintriness.
You're going surfing.
Welcome to
Saturdays Surf NYC
, the ideal outfitter for your new, surf-oriented existence, online now.
So let's say you're plotting a midwinter escape. Or you resolved to go full Laird Hamilton in 2011. Either way, you'll head here—the new online outpost of a shop set up by a trio of beach-minded New Yorkers. Browsing their stock is like leafing through a Maui general store. Boards: check. Vintage trunks: check. Bracelets made out of fishhooks: as a matter of fact...
You'll also find wet suits and a hardcover
World Stormrider Guide
to direct you to the world's best waves. (We hear it's always summer somewhere.) But it's not all surf gear. If 12 months down the road you're struck by a sudden yearning for the alpine life, they'll have mountain-climbing jackets, camping packs and Colombian coffee all lined up.
You will, however, have to find your own Sherpa.