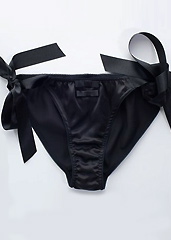 Some key moments in the history of seduction by mail:
1797:
The invention of printed romantic cards, aka "valentines." Expectations around the fake holiday rocket skyward.
1910:
The debut of an evil corporation called FTD.
2011:
Thanks to the magic of some enterprising Brits and the USPS, you send hand-wrapped knickers by mail.
Allow us to explain that last one.
Introducing
KnickerMail
, a brave new way to deliver silky underthings to your valentine through the mail, available now.
Sure, mail-order clothes are nothing new, but this is the world's first service devoted solely to lovingly sending hand-wrapped, individual pairs of knickers, by mail.
Step one: take view of your life and consider if you really, truly want to do this. Step two: choose a color (red, purple or black) and compose an inscription for the handwritten note that will accompany your gift. (In a pinch, a Bee Gees lyric should work.)
Then, a few weeks later, the young woman will find an inconspicuous paperback-sized envelope resting in her mailbox. The knickers in question are silk-satin with ribbons at the hips, something like you'd find at Agent Provocateur.
You might want to double-check the address before you send.