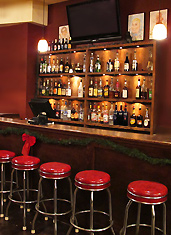 Ah, New Orleans. It's constructed on a swamp. It's got suspect politicians. Its people love brown liquor and fried food.
This is beginning to sound familiar.
Introducing
Bayou
, a new Louisiana-style restaurant and music hall holding a grand-opening party on New Year's Eve.
You may have been in this narrow, two-level space during its former life as a semiprivate club for the Georgetown set called the Rookery. But now, they're flinging the doors open to all comers, recasting the place as a slice of the French Quarter, albeit with the debauchery dialed down a bit (not to say that you can't supply your own).
You'll enter through the heated patio into a space festooned with New Orleans photographs and vintage Jazz Fest posters. Your aims will be humble: a Ramos Gin Fizz, an Abita beer, one of a half-dozen po'boys and some playoff football on their multiple flat-screens.
But you'll be back on date night, when you're looking for something a bit different—
Blackened Rockfish over Jambalaya Risotto
, Howard University jazz combos during dinner, and local and national rock and jazz acts on the upstairs stage.
The first one is up on New Year's Eve. Following a Cajun-influenced prix fixe dinner, the Glen David Andrews Band out of New Orleans takes the stage from 10pm till 2am.
Yes, if you bring your trombone, they may let you sit in.