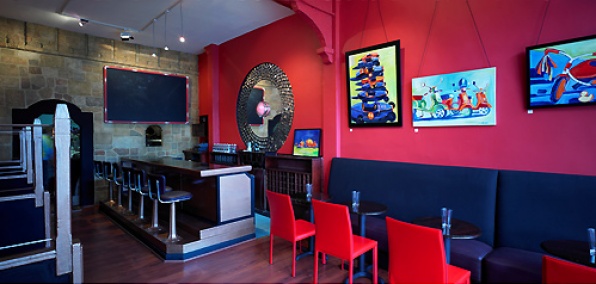 When in doubt, go burger.

But sometimes even that safety net can get a little too safe.

We think a little ostrich, venison and lamb will shake things up nicely.

Introducing Bistro SF Grill, a new patty joint focused on serving upscale burgers made using wild game and other local, organic meat, opening Thursday on California.

Basically, it's like an all-American burger joint through the eyes of three Bosnian gentlemen with a penchant for the exotic. (Finally, the Bosnian-American restaurant you've seen so vividly in your dreams.)

Everything about this place has an unexpected spin: you'll find meats like buffalo and boar, but you'll also sense a certain casbah-esque vibe (crimson walls, art deco trimmings) mixed with a random medieval castle wall, mixed with... typical diner style. You'll sit in vintage stools from 1929 or take over a bank of two-seater booths.

Let's say you wake up one morning, and only some Kobe-packed Geisha and Merguez lamb burgers will do. This is your spot: they open their doors at 10am, and stay open straight through about 11 at night. Plus, just about whatever type of meat you're craving, they'll likely have it on the menu—or might be persuaded to order it for you.

Of course, bear burgers might be taking it too far.