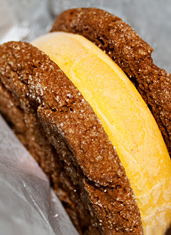 The heart wants what the heart wants.
And sometimes, in the dead of winter, at 2am, during a snowstorm: that's Guinness ice cream sandwiched between two salted peanut cookies.
Very well. We're sending someone over right now.
Introducing
Melt Bakery
, and depending on how excited you are by boozy ice cream sandwich delivery, either the first or second greatest innovation of the decade, accepting email orders now.
Essentially, this is a 24-hour, on-demand delivery service that's willing to provide gourmet Chipwich drop-offs for you all over Manhattan. Anytime you want one (or, technically, at least six), you'll just fire off an email (subject line: Let's Make History). Then, aside from answering the front door and tending to the indoor fire pit, your work is done.
On the website menu, you'll find items Good Humor could only fever dream. Things like the
Elvis
(banana ice cream with peanut butter cookies) and the
Thai Fighter
(chocolate chili ice cream meets coconut curry cookies). But there's also another way...
You see, their menu is more of a suggestion and less of a law. And any ice cream flavor (including the boozy
Shiraz
,
Guinness
or
Malted Chocolate Rum
) can be combined with any cookie (
Pastis Crackle
and
Pistachio Baklava
, perhaps). Or with some ingenuity and ample lead time, you could just invent something totally new.
Beer and pretzel Chipwich: your time has come.
Note:
<a target="_blank" href="http://www.meltbakery.com/">Melt Bakery</a>, delivering this week and <a target= "_blank" href="mailto:info@meltbakery.com">accepting orders</a> for early January