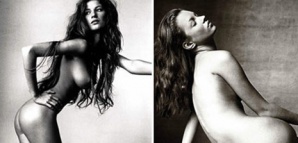 Your art collection is coming along pretty well, but you can always use a little more black and white photography. (And maybe a little more skin.)
Tomorrow, Christie's starts unloading German connoisseur Gert Elfering's eye-popping collection of photographs of nude supermodels. The 135 pics span 20 years, so we thought to give you a hand finding your way through it all. Allow us to help focus your auction strategy:
Janet Jackson's famous hand-assisted Rolling Stone cover, shot by Patrick Demarchelier in Miami in 1993. It's more pop culture history than art, so Christie's only pegs it at $6,000-$9,000. Just hope Timberlake doesn't show...
Irving Penn's silver-hued portrait of a tousled and nude Gisele, from the good old days ('99) before her career-making role in Taxi. Christie's is guessing $30,000, but you'll probably have competition...
Richard Avedon's provocative still of a breast-baring Lauren Hutton on Great Exuma island in the Bahamas circa 1968. This one has improved with age, so you'd better steel yourself for a price tag upwards of $50,000. Then again, when you're done with it, you can always auction it off...
There's also revealing peeks at
Kate Moss
,
Twiggy
,
Christy Turlington
,
Carla Bruni
,
Naomi Campbell
,
Rita Hayworth
and
Brigitte Bardot
, along with less stirring shots of
Picasso
,
Billie Holiday
,
Jack Nicholson
,
Lennon & McCartney
and... a bunch of grain elevators.
And if you think the $30K estimate is steep even for a naked Gisele, think of it this way: she's going to cost Brady a lot more than that in the long run.