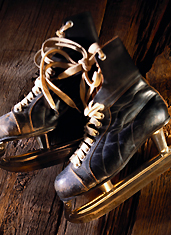 Some coincidences are just too strong to ignore. Like when a pair of hotels debuts a pair of ice-skating rinks. At the exact same time. Thus, we were compelled to investigate
Skating in the Sky at the W Downtown and The Standard Ice Skating Rink
. By no means should you consider this a competition. Though someone will skate away with a humongous trophy.
Sizing Each Other Up
The W:
400 square feet.
The Standard:
3,000 square feet.
Edge:
The Standard. But the 12-by-40-foot rink at the W is still enough space for your
Black Swan
interpretive Ice Capades show.
Peak Elevation
The W:
Five floors up.
The Standard:
Ground level.
Edge:
The W. The Russian judge/cocktail waitress will appreciate the extra degree of difficulty.
Type of Ice
The W:
A futuristic hybrid-ice synthetic rink panel polymer.
The Standard:
Frozen water.
Edge:
The Standard. There may or may not be a Zamboni. And we may or may not know where the keys are hidden.
The Scene
The W:
Panoramic views. Titans of the financial world working on their short program.
The Standard:
Waitresses in tight black snowsuits. Models/skaters in tighter black jeans.
Edge:
The Standard. Imagine the rink at Rockefeller Center, but with fewer families from Tulsa, and more visiting European dignitaries.
Après-Skating Accommodations
The W:
Skate-up, rinkside Ice Bar constructed entirely out of freezing-cold blocks of fake ice.
The Standard:
Biergarten with Winter Oyster Bar. Cheese fondue.
Edge:
The W. It's hard not to appreciate a winterized version of the swim-up pool bar.
Drinks Other Than Spiked Hot Chocolate
The W:
Kumquat Mules. Bourbon Hot Toddies.
The Standard:
Hard pear cider. Bitburger Pils. Schnapps.
Edge:
The Standard. Martini glasses and slippery synthetic rink panel polymer make terrible bedfellows.