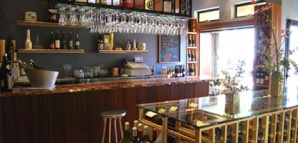 It pays to play up your strengths.

So it makes sense that when you own a sushi restaurant with the city's best sake list, you'd put a sake shop and bar right next door.

Corkage recently opened quietly next to Tsunami Sushi to bring you the most extensive collection of premium, hard-to-find sakes on the West Coast. It's in a simple little spot that's ideal for tasting before buying (sort of like a sake test drive).

Step inside this zen, pint-sized space and you'll be surrounded by bottles lining every surface (300, to be precise). A long slab of wood from an African Bubinga tree serves as the casual bar, where you'll discover sakes considered "jizake" because they're from lesser known, small, regional Japanese producers. To navigate this wild west, talk to sake sommeliers Yoshi, Jojo or Jessica on hand to pour tastings, craft flights and steer you straight.

With all of this alcohol at your fingertips, you'll be glad to hear that you can buy any bottle in the store, like Sudo Honke "Kakunko" Daiginjo, one of the rarest Japanese sakes, and drink it for a $6 corkage that's waived more often than not.

Which gives you a good excuse to get through the collection.