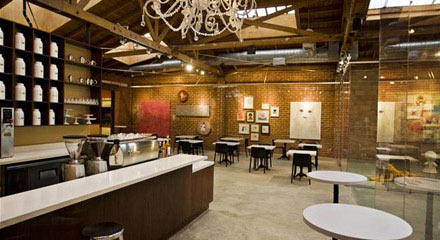 What this city has been missing, clearly, is a Japanese cafe' filled with waitresses done up in maid uniforms.

Here to address the baffling oversight: Royal/T, previewing this weekend in Culver City.

LA's first real cosplay (yes, that's short for "costume play") cafe to our knowledge, Royal/T is modeled after the menus (and hemlines) of Tokyo's Akihabara district, with concrete floors, walls of glass and the occasional incongruous chandelier that make it all feel like a contemporary Asian art gallery gone wild—which it is. The cafe melts into an adjoining shop and gallery currently featuring the rather demanding new exhibit "Just Love Me." But your attention will be focused on the Japanese comfort food as interpreted for California diners—think shrimp and avocado salads, flank steak sandwiches and green tea mousse cakes—and delivered by the maid serving you for the duration of your stay.

The cafe debuts in conjunction with the inaugural Los Angeles Art Weekend, so you should expect an elite opening crowd of patrons like yourself who appreciate the subtle nuances of...a black dress and a white apron.

Sometimes life really is as simple as black and white.