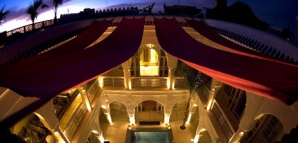 You can't resist a hotel built around an ancient affair (who could)—especially one that involves a secret room, flying carpets and heated courtyard pools.

The Riad AnaYela, a newly restored 300-year-old home in the heart of Marrakesh, is named after a 16-year-old girl who lived there long ago—recent owners discovered a hidden room that held pages of Yela's story of clandestine meetings with her lover on the rooftop (first kisses and flying together on a "magic carpet").

The story is hammered in Arabic into the silver doors throughout the decadently hand-restored house, which only has three rooms and two suites, opening onto the roofless inner courtyard, with limestone floors, leopard pelt rugs and brick baths for two.

Take a dip in the heated pool in the courtyard (where those in Morocco gather as "living rooms"), then head to the tent-swathed rooftop to enjoy barbecues over open fires and spectacular views of the city—and a drink or two in the infamous Yela's rooftop tower.

You can go snowboarding in the High Atlas Mountains nearby, or stay overnight in nomadic tents in the Sahara. But you might be loathe to leave when almost anything at AnaYela can be arranged—from traditional "soirees" (evenings of live music, Middle Eastern dancers, snake charmers and soothsayers) to more adventurous The Game-inspired "Surprise Experience Programmes."

We suggest one involving a torrid affair and a flying carpet ride.