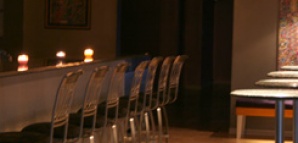 Some combinations are so fascinating they're just begging to be tried—like
espresso and vodka
or
Three 6 Mafia
and the Oscars.
Or now, caviar and Harlem.
Tomorrow, a destination bar hits the unlikely destination of Lenox and 120th—
Caviar Bar at Emperor's Roe
.
Owner David Mills seems like a typical laid-back guy—
Salmon Roe
to $200-an-ounce
Beluga
), complete with champagne pairings and Baskin-Robbins-style samplings ("I'm not sure, can I get
another
taste of that
Iranian Sevruga?
").
Flanked by a deli counter (selling accoutrements like foie gras and escargot) and the small fine dining room in the back (opening next month), the bar is a casual joint, an unpretentious spot to experience your pretentious tastes.
It's now just a question of time before we bring you a new artisanal fromagerie in Sugar Hill and a foie gras joint in Bushwick.