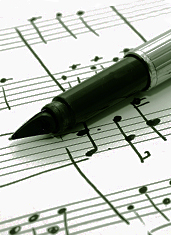 It's Wednesday.
That day of the week where your inner thoughts are backed by an internal orchestra, playing melodiously during deep conversations with yourself (helps get you to Friday).
Unfortunately, nobody hears that music, or those thoughts. If only there were someone you could partner with to be the Elton John to your Bernie Taupin...
Introducing
One Hello World
, the website that sets any voicemail you leave to original music, now taking (and composing) your calls.
Think of this as the on-demand, real-world realization of those dulcet sounds you hear echoing in the great orchestral chamber of your mind while leaving messages on someone's voicemail (who can forget the piano concerto that backed "I just bought a new Aston Martin. It was a year old, has about 15,000 miles on it. I'm pretty happy with it so far").
It's pretty simple, really: all you have to do is get a story in mind, give the number listed on the site a call and drop whatever whimsical observational poetry or flat-out "I was thinking how much my ex must miss me" message you feel like dropping, and that's it.
Then, the neo-Rachmaninoff running the site takes that message and puts a fitting (and sometimes quite beautiful) musical score to your words, essentially turning your voice into a Morgan Freeman-esque narrative masterpiece.
To share it with the world, you'll then post it to Facebook, tweet it or send it to friends.
Although, that ex may not find it as beautiful as you do.