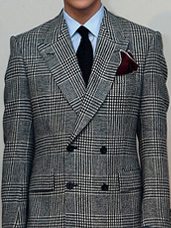 It happened again: you've been invited to an English nobleman's country house for a weekend of intrigue, and you have absolutely nothing to wear.
Lesson one: ask Prince Charles for a little more notice next time. Lesson two: get prepared.
Introducing
E. Tautz
, the new online shop of handsome British gear from across the pond, open now.
Consider this your source for the sweaters, silk handkerchiefs and knit socks you'll need to get through your next fox hunt. (If anyone asks, your name is Sir Fletch F. Fletch, Esq.)
The man behind the clothes: Edward Tautz, Savile Row tailor to King Edward VII and namesake for the 150-year-old line. Their stock-in-trade is the kind of tweedy jackets and three-piece suits you're used to seeing on Sherlock Holmes, Robert Downey Jr. version. (If you want those, you'll have to email in your measurements.) You'll also find no fewer than three kinds of sock garters on the site itself—in case you were tired of wearing the same ones day after day.
Should you also need a gift for your British hosts, there's an accessory shop with curios like a miniature Mini Cooper toy car, the official tie clip of the Nottingham Sports Car Club and a silver cigarette case stamped with the enigmatic initials "J.E.B."
Warning: 007 may want it back.