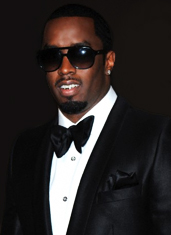 Diddy
and Daddy. Together at last. On the brink of his new album launch with Diddy Dirty Money,
Last Train to Paris
, we sat down with the self-proclaimed King of New York for some friendly banter, one giant hug and a little loose talk about swingers clubs...
UD: You're considered one of the nightlife gurus of New York City...
D: King. I'm the nightlife king. There can only be one king. I'm him.
UD: Where does the king party?
D: I prefer to take walks, you know, half nekked through Central Park with my lady.
UD: Which half?
D: The bottom half!
UD: Naturally. Very kingly. And your lady?
D: Oh, she's fully naked for me. With only some Louboutins on.
UD: And after a good nude speed walk, you must work up some appetite. Where's your favorite place to eat in New York?
D: Five Guys burger. I get the cheeseburger. Not the double patty and all that. Just the straight cheeseburger. Medium well.
UD: Say you were inclined to open your own New York club. What would it look like?
D: I'd probably open up a swingers club, to be honest. VIP. Members only. On 78th between Park and Madison.
UD: What would the door policy be like?
D: I mean, you have to hit the gym. You have to look beautiful naked.
UD: So does your entourage have to look good naked too? What's the secret to rolling with Diddy?
D: Just keep the breath fresh.
UD: You design your own clothing label, you're dropping a new record today, and you've been known to start a trend or two. Could you start a trend right here, right now?
D: Hugs.
At which point, we receive a giant bear hug. From a fully dressed Diddy.