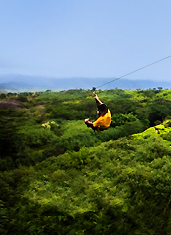 It's Monday, so naturally we'd like to speak with you about extreme sports.
In particular, the kind you can experience from a seated position.
While suspended 600 feet above the Catskill Mountains.
Welcome to
New York Zipline Adventure Tours
, the single most daring thing you can do in a harness besides star in
Spider-Man
on Broadway, open for previews this Saturday and taking reservations now for January.
So you'll pick a prime winter weekend. One when snow cover on the ground is sufficient enough to cushion a fall from North America's largest, fastest and tallest zipline tour. A winter weekend where nothing but dangling through a midair obstacle course and rappelling down the side of a mountain will do.
Upon your arrival at Hunter Mountain, you'll immediately be enrolled in Zipline Pilot Training School. It's almost identical to the
Top Gun
one, except without the shirtless beach volleyball.
Once the necessary safety techniques have been acquired, you'll set out to tackle their new
SkyRider
tour. For the next 4.6 miles, you'll encounter ziplines that require a running jump start, 500-foot suspended bridges and more than enough air time to get in three to four plays of "Fly Like an Eagle" on your iPod.
It's during these extended moments of adrenaline-fueled exhilaration that you'll clear your mind. Experience total freedom. And reach a new level of consciousness.
So you've got that going for you.
Which is nice.