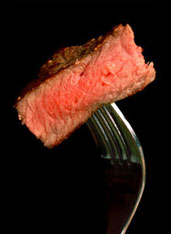 Steakhouses are predictable. Safe. Comfortable.
Rich mahogany and oversized booths. Meat carts. Creamed spinach.
Nothing wrong with that.
But as long as meat is involved, you're probably willing to shake things up.
Maybe even get a little… ninja.
Welcome
Shimo Modern Steak
, a sleek, minimalist ninja-ed out steakhouse, open now in downtown Healdsburg.
Shimo's only open for dinner, so you'll want to stop here on your way home from wine tasting. And since the owners of Cyrus are involved, you can expect to be taken care of where cocktails are concerned—only with a fair amount of Japanese whisky and a wine list with a sizeable Sonoma slant.
You're best served by showing up early for martinis at the small, wood-stained bar that's as close to traditional Americana as anything in the restaurant. Otherwise, the rest of the space is clean and modern with just a candle, a knife and a napkin on bare pepperwood tables crafted from a fallen tree in Ukiah.
Right off the bat, you'll notice some rather large cuts on the menu. But there's something to these gluttonous sizes: the 48-ounce dry-aged porterhouse is meant to feed four, and the 34-ounce Tomahawk rib eye three.
Of course, you can opt for Australian Wagyu by the ounce or individual-sized cuts of New York strip.
But you're probably thinking about that steak for three…