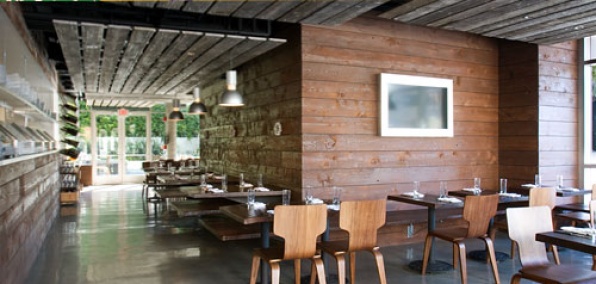 Black-crust pizza. Bourbon. The seven dwarves.
Soon you will understand what they all have in common.
And you'll be consuming plenty of the first two things as you work it out―introducing
Hostaria del Piccolo
, a rustic new pizza bistro from the owners of Piccolo, open today in Santa Monica.
If you've ever had a pizza party in a random woodshed somewhere in Italy, you'll feel pretty nostalgic when you sit down here with a few friends—although the wood-fence ceiling and reclaimed black-walnut tabletops actually came from a farm in Wisconsin. (Wisconsin: the Italy of the Midwest.)
And
as for that pizza
: there's no yeast in the dough, which means a light, thin, crispy crust on your
Zucca
(with butternut squash and sage) or
Ondecime
(mushrooms and shrimp). Stop by on the right day, and you might get a pizza with an entirely black crust―it's made with squid ink and topped with ahi tuna. (Suddenly crust-colored crust seems so 2008.)
You'll want some wine eventually. But we'd suggest starting with one of the seven cocktails named, for no discernible reason, after Snow White's seven dwarves. Go for the
Eolo
(that's Italian for Sneezy) with bourbon, Campari and lavender bitters, or the
Brontolo
(that's Grumpy), with rum, jalapeño and berries.
Don't be bashful about the Bashful.