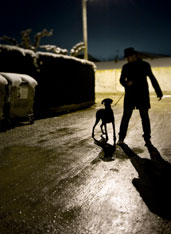 You're a dog person. Or maybe you're not. Either way, you know the benefits of having a puppy on hand.
The companionship. The attention from the fairer sex. The beer-fetching.
So you've often thought: If only there were a way to
have
a puppy without the burdens of actually
owning
a puppy...
Well, look at that: now there is.
Introducing
Rent My Puppy
, a new service that's exactly what you think it is, scheduling walks now.
Basically this is like being a dog walker, but in reverse—you're paying the owner for the privilege of walking her dog. (Stay with us...)
You'll start by
emailing
the owner of a five-month-old Braque Français hunting dog named Cecile. Then, you'll submit to a rigorous background check consisting of a Facebook profile inspection, a check of your references and a phone interview. If you're deemed dog-worthy—and we have every reason to think you will be—you'll provide a copy of your ID and set up a date with Cecile.
As for why you'd do this, we'll just say one thing: shot-for-shot remake of
Turner & Hooch
. Okay, one more thing:
Air Bud
-style pickup games at Cole Park. And if you happen to garner attention from gentlewomen with an affinity for furry creatures, then so be it.
To be clear, we mean the dog.