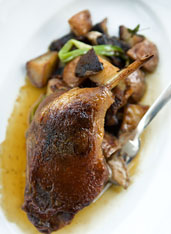 So it's that time of year.
Time to get your friends together for a festive dinner party, featuring your famous
Duck Confit
and maybe some
Slow-Braised Beef Cheek
.
Two problems: 1) You're not famous for your duck confit. 2) You have no idea how to slow-braise beef cheek.
Solution:
Be the Chef
at RH, your chance to step into the kitchen of an acclaimed restaurant and whip up a little holiday feast alongside a master Frenchman, now accepting reservations.
Here's how it works: just call the restaurant, book the chef's table, work out which menu options you want to tackle, and send out invites to 10 or so of the best gift-givers in your life (we're thinking Emma Stone, Diddy, Don Draper's fiancée, a few Rocawear models and Bridges). When the day comes, you'll head over a few hours early to meet chef Sebastien Archambault and don a white coat he'll have waiting for you. (It probably won't stay white for long.)
And after a couple hours of chopping, braising and confit-ing with a man who recently earned a Michelin star in Corsica, you'll gracefully present your friends a family-style feast of that duck, that beef cheek and/or some
Field Mushroom Risotto with Black Truffle Sauce
. And you can honestly say you made it.
No, you don't have to do the dishes.